SPAL 12" Paddle Blade Fan
This product qualifies for quantity discount pricing.
(
what's this?
)
(Click image to view drawing with dimensions)


SPAL high performance fans offer the ultimate advantage in airflow. Our enhanced motor design ensures that you get the maximum possible performance while benefiting from motor life that is second to none. The same attention to detail is evident inside each of these fans and allows them to survive even after full submersion in water.



Airflow:

1434 CFM


Voltage:

12 Volts


Max Current:

22 Amps



Weight:

5.2 lbs

- Sealed motor design
- Low noise Paddle style fan with back skewed blades
- Compatible with all mounting kits
- Compatible with all FRH, 185FH, and 195FH wiring kits

Pull Version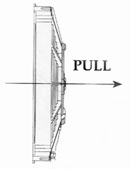 SKU:  30102051
Mfg #:  VA34-AP70/LL-36A
Weight:  6.00 lbs
Due in stock Jan 2022.