SPAL 5.2" Paddle Blade Slim Fan
This product qualifies for quantity discount pricing.
(
what's this?
)
(Click image to view drawing with dimensions)
SPAL motorcycle fans provide superior airflow in the smallest possible package. The fans are found on some of the world's best known brands such as Harley Davidson, Yamaha, Buell, and Honda.
The compact fans are also perfect for intercooler and oil cooler applications.
Airflow:  313 CFM
Voltage: 12 Volts
Min Current Draw: 3.6 Amps
Max Current Draw: 4.5 Amps
Weight: 0.9 lbs

- Sealed motor design
- Compatible with Pin Style Mounting Kit
- Compatible with all FRH, 185FH, and 195FH wiring kits
- Available in Pull and Push configurations
Pull Version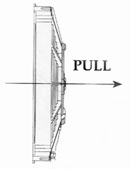 SKU:  30103011
Mfg #:  VA31-A101-46A
Weight:  1.20 lbs
Push Version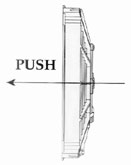 SKU:  30103013
Mfg #:  VA31-A101-46S
Weight:  1.20 lbs