SPAL 9" Slim Fan
This product qualifies for quantity discount pricing.
(
what's this?
)
(Click image to view drawing with dimensions)
SPAL low profile fans offer industry-leading airflow against even the most demanding cores. Our patented motor ensures that you get the greatest possible airflow in the thinnest possible design.

Airflow: 590 CFM
Voltage: 12 Volts
Min Current Draw: 6.0 Amps
Max Current Draw: 6.6 Amps
Weight: 2.2 lbs

- Sealed motor design
- Compatible with all mounting kits
- Compatible with all FRH, 185FH, and 195FH wiring kits
- Available in Pull and Push configurations
This is a popular replacement fan for Polaris ATV's!
Pull Version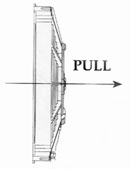 SKU:  30100392
Mfg #:  VA07-AP12/C-31A
Weight:  4.00 lbs
Push Version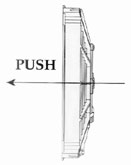 SKU:  30100381
Mfg #:  VA07-AP12/C-31S
Weight:  4.00 lbs