SPAL 16" Extreme Performance Fan
This product qualifies for quantity discount pricing.
(
what's this?
)
(Click image to view drawing with dimensions)
SPAL extreme fans offer the ultimate advantage in airflow. The extreme performance fan is intended for racing use. This is not a sealed motor fan and should not be used in a daily driven car.

Airflow: 3000 CFM
Voltage: 12 Volts
Current Draw: 26.0 Amps
Weight: 5.2 lbs

- Vented motor design
- Designed for race use
- Compatible with all mounting kits
- Compatible with all FRH, 185FH, and 195FH wiring kits
- Available in Pull configuration only
**Please note, the 30102113 fan uses a Metri-Pack 280 connector and will require the use of pigtail part number FR-PT15300027.
Pull Version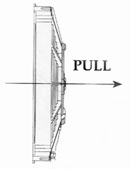 SKU:  30102113
Mfg #:  VA18-AP70/LL/F-59A
Weight:  10.00 lbs